January has passed and I've given the birds the last of the Christmas cake…
……
I like this – especially because it came from Susan Sontag…
"There is something about facing a mortal illness that means you never completely come back. Once you've had the death sentence, you have taken on board in a deeper way the knowledge of your own mortality… there's something in you that's permanently strengthened or deepened. It's called having a life."
…..
Frogs and Conkers
I love my brother Eric to the moon and back. As a child he was my best friend.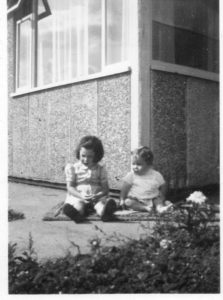 He always rang the bell upstairs on the bus on the way home from Sunday school when I dared him and he was always the one who got told off by the conductor while I sat in innocence. .
He walked out on to the ice on Longholme Lake in Bedford when I dared him  and fell through it while I watched in horror. A man rescued him and we went with him in dripping freezing clothes to Nan's.
He and Patrick Francis stuffed a frog down my back and thumped it.  I went completely hysterical. I didn't think that's what frogs were for. They also showed me how to cook bread on a stick over an open fire. Cubs was an interesting place. I used to walk across the allotments to meet him coming out of cubs with Buster, our dog.
He was always a good listener. He taught me how to smoke a fag properly, having watched my early attempts. He was always quiet and brave.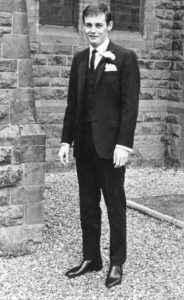 We were standing by the garden gate getting ready to play conkers. The scissors worked a treat and made a hole in the conker and went on to make a hole right through his hand. We stood there, amazed. As we have done many times in our lives since.
……
Jo
I have a precious friend called Jo who lives in the Midlands with her husband Shaun and their daughters Lydia B and Rosie B. Jo and Dom were very close as stepbrother and sister and it  meant so much to him when she visited in the months leading up to his death. They were kindred spirits in many ways I think. It is really to Sandra that I owe this special relationship. Sandra Bickley is Jo's stepmother and she brought us close.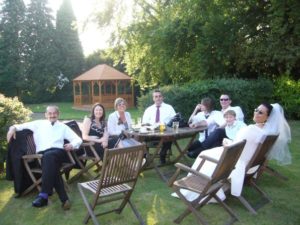 It's lovely to have the little gifts and notes sent from Lydia B and Rosie B at different times of the year – although I must be a very mysterious Nanaleigh to them. I love  how Jo remembers her big brother and am happy that she remembers me.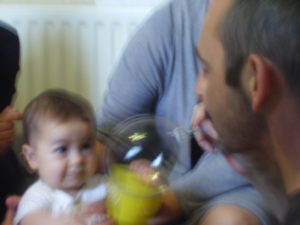 ……
It's February 2019 now and the birds are happy.
Plenty of tiny bits for them to gobble. An old gardener in Tenterden, Kent, told me that by February 17th the birds know who their mate will be. Percy was the last man in England to plough with oxen and the BBC came down to Tenterden to make a programme about him. So he was probably right about the birds.
The garden at Ye Olde Cellars in Tenterden was an Elizabethan walled garden. He cared for it every day and it was a source of great peace for me. He even let me help him now and again and I carefully followed his instructions as I planted his asters or picked his loganberries. He could never have known what he meant in my life. When I left, he gave me a plant with a note pinned to a stick in the soil:
"The kiss of the sun for pardon, the song of the birds for mirth,
You're nearer God's heart in a garden than anywhere else on earth"
……
Nearly midsummer – a night's dream – I love that play!
……
In June Stuart asked me 'What do you write?' and this made me think. I do lots of thinking and not enough writing these days. A complete lack of self-discipline.
Water Melons and Hurricanes for Stuart
The melons are running and hurricanes coming,
and our texts cover oceans and oceans of stars,
like strong-hearted pirates,
on wind-blown galleons,
chasing the waves.
setting sail for Bim.
Your hurricane blows and the skies darken low
and you batten the hatches and make safe below.
It is patience and hope that will lessen the rain
and it's love from the dear ones will soften the pain.
Now it's time for the crow's nest,
to hold, climb and balance,
watching the water for first light of dawn…
 'Land ahoy!' we can holler,
 and all haul away to the last morning stars.
Then we'll play on the beaches and sing in the bars.
…..
"You wanna fly, you got to give up the shits that weigh you down."
Toni Morrison
…..
I'm tryin' Toni, I'm tryin!
…..