Les lives in southern Sweden now, with his two sons Danny and Andrew and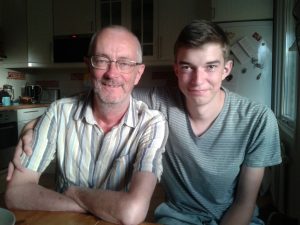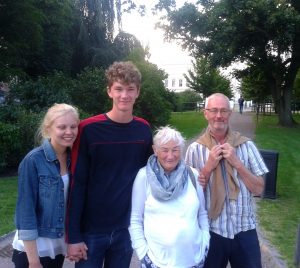 with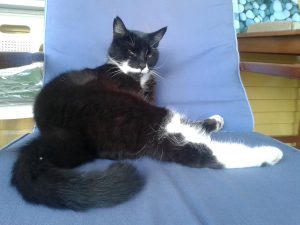 Domino, their cat. Their home is in a  small town, called Bjarred – "Bearhead" – on the west coast not so far from Lund. It's a stunningly beautiful place, with quiet spots, friendly folk, and access to other towns and cities via a brilliant bus service.
Perhaps the most beautiful part is the path that runs from the wildlife sanctuary with its birdwatching hide, past the little boats moored on small jetties under trees, or moored alone out on the water, looking towards Denmark. You can gather seaweed for the garden down there. It's a walk I often return to in my thoughts and I never forget when Danny was young and we played together by the water.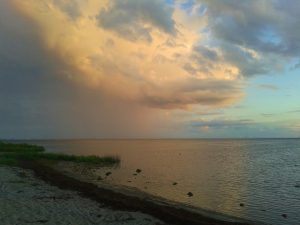 When Les first lived in Sweden, many moons ago, he went north into the Arctic Circle to make maps and count stars. What is it about northern light? John always says it's the best light for painting. Les is a northern man. He'll be off to the roof of Norway soon to conjure up the Northern Lights.
His two sons are loving people who love people, echoing their Dad.
I remember Danny watching and listening closely to me when we first met, then teaching me Swedish words – useful words like nose, thumb and hair. When I grew older and more sad, Danny would still watch me, would come and sit quietly next to me – just being alongside each other and just what I needed.
Andrew is quietly happy to share, always ready to walk to the shop to choose cake ingredients together, to translate when needed, to show me where his friends live, to take a bus ride with me or to make a chocolate cake and to eat it with big smiles together.
They are both musicians. Music is a big part of life in Les's home. I have heard that there's good access to music for young people in the Swedish schools and I've also heard that the best music producers today are Swedish. That doesn't surprise me. Danny's band is called High Coast. He's a songwriter too. You can find him on You Tube. Have a listen sweet reader. Andrew plays guitar too and studies music. I can't wait to talk with him about it all.
There's nothing like the hug of a loving brother. Les gives the warmest hugs – straight from his heart. When he was a boy, he had the bluest eyes, a ready smile and flaxen hair. Nowadays, the eyes and the smile go on twinkling under a silvery hairline, rather like the snow-capped Himalayas mapped from space on the blue planet. And I think of how like his Dad he is – and wouldn't Dad have looked like Les if he'd lived beyond forty-two?
Les is as generous as a warm shower in April. Once you're settled in his home, he will announce that his home is your home, so do help yourself to anything you need. He loves to cook and  produces amazing vegetarian dishes with home-grown potatoes, tomatoes and strawberries. And coffee. Always time for a sit with coffee.
In June 2011, Hinnie and I visited Les to take a break from caring for Dom who'd been diagnosed with terminal cancer. Les gave us his warm welcome, a quiet comfortable room and space to reflect on what was happening. I can never thank you enough for your gentle compassion.
This poem is for you Les.
Jetty Coffee
My brother walked with me.
What a blessing!
Out from the land, along
one of those wooden stretches
over water that you find in Sweden.
A bridge over troubled water.
Over coffee at the clubhouse
he listened and spoke quietly,
"It is," he said,
"every parent's worst nightmare."
And when I came home to you
how we'd missed one another!
And I saw in that photo
how straight you'd sat, waiting
with your customary patience
for radiotherapy to hit the mark.
Then to go home with the precious
prize of time, like that goldfish
in the glistening bag in your hand.
Eileen Walke